Acne scarring. While most of us have experienced some form of scarring, the most frustrating by far are the scars we cannot hide. Although the potency of platelet-rich plasma (PRP) is continuously being explored and utilized, the Department of Dermatology, Venereology, and Leprosy, National Institute of Medical Sciences in Jaipur, Rajasthan, India have indicated that micro-needling has become an established treatment for scars.
A study has been conducted by the Department of Dermatology, Venereology, and Leprosy to evaluate the effectiveness and safety of platelet rich plasma (PRP) combined with micro-needling for the treatment of atrophic acne scars versus micro-needling with distilled water.
The usage of micro-needling is to initiate collagen synthesis. This has been achieved by causing minute injury to the dermis with the use of microneedles. The needles used are so fine and thin that tissue damage is almost nonexistent. The "nerve stimulus," transmitted by electrical signals, triggers the cascade of the healing process, discharging growth signals to undifferentiated cells and phase one inflammation starts immediately after the injury. Fibroblasts migrate to the point of intrusion for wound closure and stimulate endothelial cells resulting in neoangiogenesis (formation of a blood vessel in tissue). This natural tissue remodeling continues for 8 weeks to 1 year.
Fifty patients of 17–32 years of age with atrophic acne scars were enrolled. Microneedling was performed on both halves of the face. Intradermal injections, as well as topical application of PRP, was given on right half of the face while the left half of the face was treated with intradermal administration of distilled water. Three treatment sessions were given at an interval of 1 month consecutively. Goodman's Quantitative and Qualitative scale were used for the final evaluation of results.Results showed 62.20% improvement in the right halves of the face and 45.84% improvement in the left halves, respectively, on Goodman's Quantitative scale.
These results conclude that PRP has success in the management of atrophic acne scars and can be combined with micro-needling to enhance the final clinical outcomes in comparison with micro-needling alone.
Acne scar of a 25-years-old male with pretreatment and post-treatment right and left half of face showing significant improvement (margin of each scar can still be appreciated in left half). Asif et al, Mohd. Platelet rich plasma in acne scar management. 2013-2015. City Journal of Cosmetic Dermatology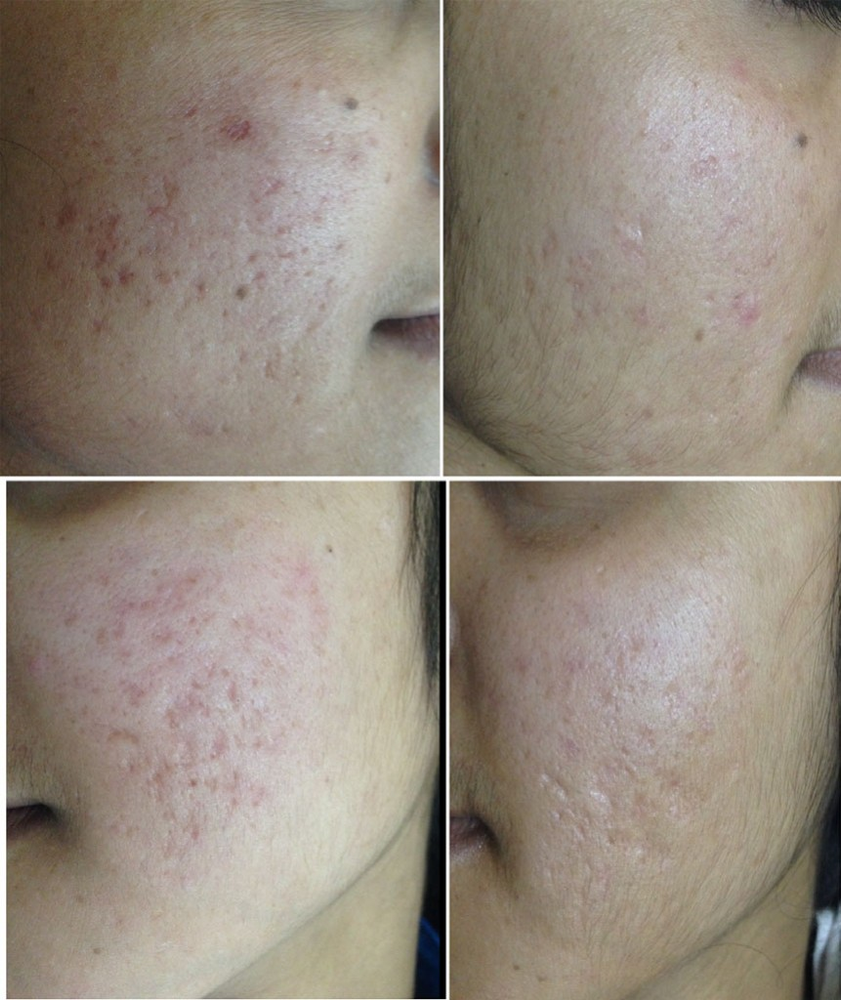 Acne scar of a 23-year-old female with pretreatment and post-treatment right and left half of face showing significant improvement (margin of each scar can still be appreciated in left half). Asif et al, Mohd. Platelet rich plasma in acne scar management. 2013-2015. City Journal of Cosmetic Dermatology
For more information on regenerative medicine and its' aesthetic applications, join us for an upcoming physician training course near you. 884-897-4910